Rumours, leaks and unanswered questions: the battle to explain events at Plymouth University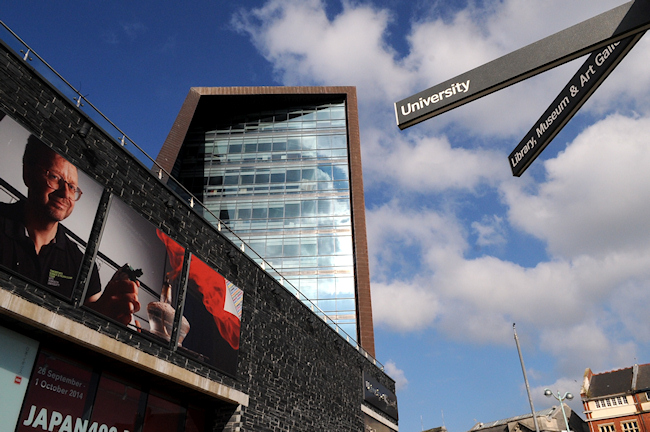 As a journalist in local media, I never had much cause to go rooting around in the upper echelons of higher education. I was always aware of universities in the towns I reported on – they would send out press releases telling us what great work they were doing, and their students were handy for a vox pop now and again. But in terms of what went on behind the closed doors of the campus boardroom, I didn't know or particularly care. All that changed last summer when Plymouth University's vice-chancellor, Professor Wendy Purcell, was 'placed on leave' by the board of governors.1 Despite everything which has happened since, the question which first sprang to mind remains unanswered: Why?
My newspaper, the Plymouth Herald, led the campaign to piece together a complex puzzle, along with colleagues from the BBC and Times Higher Education. The university's initial statement said Professor Purcell was relieved of her duties as part of "an ongoing review process", urging the media to "avoid unhelpful and inaccurate speculation". But with no further explanation forthcoming, an information vacuum started to fill with gossip, rumours and leaked documents from anonymous sources.
In August, the Higher Education Funding Council called for an independent external review of the university's governance arrangements. Departing pro-chancellor Barbara Bond claimed she had been "forced out"; the university said her term of office had already ended.2
The story then took the first of several bizarre twists when chair of governors William Taylor, a retired crown court judge, was accused of sexual harassment. The allegations were made by Professor Purcell, apparently on behalf of a number of other people. The judge vehemently denied the claims, but agreed to temporarily step aside while they were investigated.3
It then emerged that the judge had been accused of 'unacceptable behaviour' towards a young female graduate two years ago. We saw e-mails showing the vice-chairman was alerted in December 2012, but took no action. He refuted this, saying the previous concerns related to "wider working practices" and were not linked to the current situation. The deputy vice-chancellor wrote to the managing director of the company which owns The Herald to convey his "dismay" at our coverage, accusing us of engaging in a "reckless and damaging piece of journalism".
It was around this time that the wider implications of the story began to surface. A Plymouth MP promised to raise the issue with a Government minister, while Vince Cable was said to be aware of the growing crisis. Business leaders warned the city's reputation could be damaged; one accused those involved of "washing their dirty linen in public" and creating a "firestorm".4
The university repeatedly stated that the inquiries into Professor Purcell and Judge Taylor were confidential. Our sources spoke of a bitter clash between these two strong personalities; others told us we should follow the money. Against a backdrop of cuts to student support services and proposed redundancies, there were rumours of unchecked spending by senior executives. So the next chapter of the story began.
On September 10, a Freedom of Information request revealed the university had spent more than £24,000 sending six members of staff to a three-day higher education conference in Miami earlier in the year. Professor Purcell's business class flights cost £3,595, and she spent a further £304 on expenses. She stayed at the Shore Club hotel on Miami's South Beach, billed as "a luxurious playground for the jet-set".5 This was a salacious story, but taken on its own it didn't amount to much.
As we chipped away at financial records looking for more clues, I visited the campus one morning to speak to some students and staff who were returning for the start of the new term. They said they were a bit frustrated and not quite sure what was going on, but basically just wanted to get on with their work.6
The university's press office wrote to my editor to complain, saying it was unfortunate I had not asked their permission to visit and it was important for future relations that all subsequent requests go through the proper channels. This has been a recurring theme of my increasingly fractious relationship with the university: the underlying threat that our continued pursuit of this issue could have implications for the paper's relationship with their powerful organisation. My bosses told me to keep going.
On September 20 we landed a fresh scoop. Thanks to some well-placed sources, we were able to stand up rumours that a set of plush ceremonial chairs were being commissioned for graduation ceremonies. This led to a huge outcry from students, staff and union members, and spawned the memorable headline 'Shame of Thrones'.7
Internal memos illustrated the intense secrecy surrounding the project, eventually revealed to have cost £96,000. It also came to light that the university had commissioned a film crew to follow the creation of the chairs, with the aim of producing a half-hour long promotional documentary. There followed an undignified back and forth as the suspended v-c and her deputy attempted to distance themselves from this PR disaster.
As September drew to a close, a long-serving academic called for the deputy v-c to resign over his role in the chairs project. The day after his comments appeared in print, he was reprimanded for speaking out. Meanwhile, pressure on Judge Taylor was growing. We discovered he had been present on campus for 'pre-arranged events', despite the outstanding harassment allegations. The board of governors said this was not an issue as the v-c was "the only complainant", making the question of contact with anyone else "irrelevant".
But The Herald revealed that while the v-c was indeed the only named party in her complaint, it referenced "alleged instances (of sexual harassment) purporting to involve anonymous individuals". It remains unclear whether these people were students, graduates or staff members.
On the day that article was published, the news broke that Judge Taylor had quit. He still denied the allegations, but said he was resigning because the media speculation was becoming a distraction.8 That afternoon I met with a former student named Katie French who handed me a stack of documents which would help form another piece of the puzzle.
When she was editor of the university's student newspaper, Katie felt attempts were being made to silence and censor her. She had e-mails and text messages from student union executives who apparently warned her to stop asking questions about plans to cut student support services, along with the infamous Miami conference and the cost of the refurbished SU building.9
One particular article was described as "ill-informed" by the union, who said it could run the risk of coming under a disciplinary code that could result in "dismissal or suspension". Katie said she genuinely feared she might be kicked off her course. Several months later the SU told us it had fully investigated Katie's claims and had found "no evidence" to substantiate them.
In early October, it was announced that James Brent would take over as chairman of governors. Mr Brent is the owner of Plymouth Argyle FC, and a household name in the city thanks to his entrepreneurial involvement with several other high-profile business ventures. He promised to unite the institution following a "difficult chapter", and we hoped this might mean some answers would be forthcoming, but if anything the wall of silence only grew higher.10
Some more small pieces began to slot into place, but the full picture remained out of focus. We discovered the v-c had taken a first class train journey once every eight days on average for three years, racking up an expenses bill of almost £15,000. A leading union passed a vote of no confidence in her, saying the recent problems had undermined morale and risked long-term damage. Then Professor Ray Playford, another deputy vice-chancellor, went on secondment to a Government position. Attempts to find out why have so far led down a dead end.
On November 10 a resolution came, but not in the form we expected. After more than four months absent on full pay, Professor Purcell returned to work with immediate effect. Her chief executive responsibilities were taken away, but she remains as vice-chancellor and will help the chairman of governors to "build the university's reputation".11
Naturally, we asked more questions. Why was the v-c originally placed on leave? What were the allegations against her, and what was the committee's conclusion? Will her salary remain the same? Has she received any compensation? Four days later came the following reply: "The university will not be issuing anything further on the return of the vice-chancellor beyond that which was set out in Monday's press release".
And that, it seemed, was that. The explanation we were waiting for would never come; the holes in the story would never be filled in. We were expected to accept that everything had been resolved behind closed doors and move on.
A week after Professor Purcell's return, a group of students were invited to a question-and-answer session with Mr Brent and deputy v-c David Coslett, now in his new role as 'interim chief executive'. The meeting was, by all accounts, a tense affair. The students asked all the right questions, but were told the reason for the v-c's suspension was "a private matter" and unlikely to ever be revealed due to legal agreements. "They kept coming back to the phrase 'moving forward', but when questioned about what they were moving forward from, they would deflect away and not comment further," one student said. "It reminded me of politicians on a debate show, lots of talk but no real answers."12
Professor Coslett used the meeting to launch into an extraordinary diatribe against the media, accusing us of "sharp practice", distorting the truth and ignoring the facts in pursuit of a good story. He was quizzed on alleged censorship of student journalists, and denied anything of the sort had ever taken place. On the Judge Taylor inquiry, he said the matter is now closed. I asked the university whether the claims of sexual harassment had been either proven or disproven, but was told that was "confidential". The London-based barrister who led the inquiry also refuses to comment.
These serious allegations will now apparently be left hanging in the air, as will the mysterious events which led to the four-month absence of the vice-chancellor. Despite everything, we are not much closer to answering that initial question. We followed the money and uncovered some eye-popping stories, but was it really about finance or was that a red herring? Was it simply a case of two powerful figures trying to get rid of each other by trading allegations and legal threats?
Even in the last few days, the mystery has deepened further. We learned on Friday that Professor Purcell is no longer vice-chancellor, but will remain at the university as president, prompting speculation that she is being 'phased out'.13 The university is now preparing to look for a new vice-chancellor with a spokesman saying Professor Purcell had "successfully completed" her time in the role.14
Our job as journalists is to seek the truth and explain it to the public; for the last seven months we have encountered obstacles at every turn. From day one of this sorry episode, the university's PR strategy has created an empty space where a story should be, and we make no apology for attempting to fill it as best we can.